Student before athlete
Multi-sport athlete Mikayla Sta Ana (9) explains how she maintains her demanding schedule while maintaining a 4.0-grade point average. 
Volleyball and softball are very draining sports, Sta Ana mentioned how mental health is an important part of her success or for any competative athlete. 
"Mental health is a huge part of any sport I think a lot of people try to ignore it but it is a really big thing that should be listened to and is really good to listen to your body."
Before every game, Sta Ana follows a pregame routine to maintain her focus. 
"I always have to put my left batting glove on first then I put on the right and then I always put on my helmet that usually gets me locked in."
Since Sta Ana works hard to maintain a 4.0 GPA and play two sports, she explains how time management is important for her.
"Time management is a big thing, and as long as you don't slack off you should be okay."
Success doesn't come easy. Mikayla practices 5 times a week and since softball is an outdoor sport she explains how that affects her practice. 
"Usually, we practice 5 times a week but since the rain, we haven´t really had much practice so I have to practice more alone."
Out of Sta Ana´s 12 years of playing this sport, she expressed what her all-time favorite moment was.
"My all-time favorite moment in softball is hitting my first-ever homerun in a game."
Your donation will support the student journalists of South Hills High. Your contribution will allow us to purchase equipment and cover our annual website hosting costs.
About the Contributor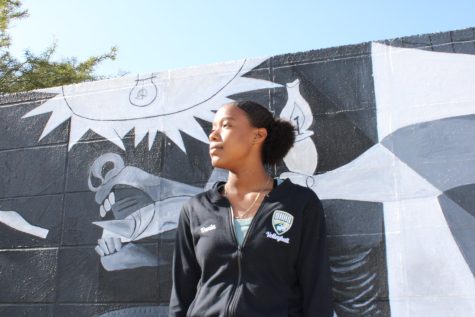 Denia Evans, Staff Reporter
Denia Evans is a freshman at South Hills High School and is a staff member of the South Hills   journalism team. Outside of journalism she enjoys reading...