A look into the routine of a varsity tennis player
Players of the girl's varsity tennis team share their experience of playing tennis and how they incorporate it into their everyday schedules.
"Tennis is literally my whole life," said Ashley Sendejas (12), a member of the girl's varsity tennis team. "It's been my whole life since junior year actually, and I had to get used to the fast-paced schedule we had involving school, tennis, and just everything- like social life."
Sendejas takes pride in her expression for tennis. But sometimes, trying to balance sports and academic life can start to take a toll on the mental health of student-athletes. According to researchers, being overly busy and exhausted can increase anxiety and stress for an individual.
"Mental health is a hard one to deal with during such a busy time or schedule," Sendejas said. "So I really have to make sure that I prioritize my mental health over everything. Because…it's hard to focus when you have anxiety. I'm trying to figure it out. I'm always trying to figure it out," Sendejas said.
Many people tend to keep track of how long they spend on their tasks, that way they can make time for more important things. Though for some, breaking old routines or habits can be somewhat difficult.
"I get distracted and forget easily. It takes longer to do tasks because my short dory attention span can't focus on anything for too long," Alisa Li (12) said.
Studies have shown that procrastination can be linked to various things such as anxiety, poor study habits, and stress. People will typically avoid unpleasant tasks that need to be done but eventually will gain the motivation to get up and do their best. Sometimes it's just the little things that will brighten up someone's day.
Li was asked what small thing she enjoys the most within all the hustle of her tennis routine, "Waking up at three in the morning to get to school before six thirty/seven am, especially when the sunrise is really pretty that day," Li said.
The girls on the team expressed how hardworking they are not only for themselves but also for their teammates.
Christina Ibrahim (10) was asked what advice she would give to those who deal with stress. "Set a schedule for yourself, make sure that when you go home, just do your homework, and study for your tests."
Your donation will support the student journalists of South Hills High. Your contribution will allow us to purchase equipment and cover our annual website hosting costs.
About the Contributor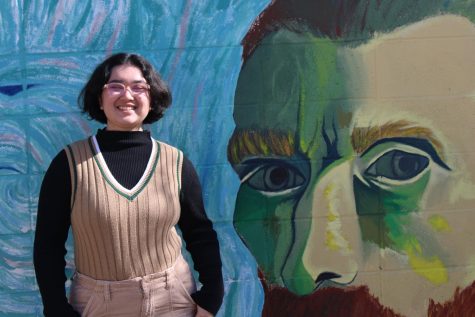 Skye Gonzalez, Editorial Staff
Hey! My name is Skye :) I'm an editor for the Growl newspaper. I'm very passionate about drawing and writing, being creative is one of the most important...