Cheerleaders' perspective on cheering at football games
The South Hills High cheerleaders reflect on their experience cheering at football games.
"My favorite part of cheering for football is just the reactions when we win games, not only from the cheerleaders but the fans as well as the players. The energy is just so good and I love the feeling of winning and being united as a school," senior Bella Villareal said.
This energy however has to come from somewhere and everyone likes to prepare for football games differently, said sophomore Kaitlyn Crouse.
"Before the game, I change into my uniform, do my hair and makeup, then head to school to meet the team in the cheer room. There we'll do any finishing touch-ups with each other until our bus arrives," Crouse said.
Another way South Hills cheer prepares for football games is to save their mental energy throughout the day.
"I really focus on being motivated on game days, I listen to podcasts, keep my earplugs in all day, and listen to my favorite music that hypes me up and get ready for the games," Villareal said.
Many cheerleaders agree that the routine you follow before the game can affect how you perform. Kaitlyn Crouse discussed how important positivity is in encouraging the team.
"I get to cheer with my friends and bring everyone's spirits up. I like… staying positive and keeping a smile brings the crowd's energy up as well as the players," Crouse said.
Many cheerleaders stated that staying positive is a key part of cheerleading. However, junior Caitlynn Roeder said that it can get tough.
"The most challenging part is pushing through. Even when tired, no matter what the score is, we keep the crowd encouraged. We do this with cheers and stunts. You will always see us having fun on the sidelines," Roeder said.
Sometimes, when the team isn't doing great, the crowd can get discouraged and the cheerleaders have to find a way to engage them once again.
"We keep the crowd engaged when the team is losing by calling out spirit cheers, which is a cheer that hypes the crowd up and just encourages them that we are the number one school or we're going to catch up, and things like that. It's called crowd encouragement where we hype the crowd up because we can see that the cheerleaders' and fans' energy reflect on the field," Villareal said.
Although cheerleading can be challenging at games, South Hills cheerleaders will always do their best and have a good time cheering for their school.
"No matter what, the games will always be fun. Doing all the stunts you have worked for all week and finally getting to perform them is the best feeling ever," Roeder said.
Your donation will support the student journalists of South Hills High. Your contribution will allow us to purchase equipment and cover our annual website hosting costs.
About the Contributor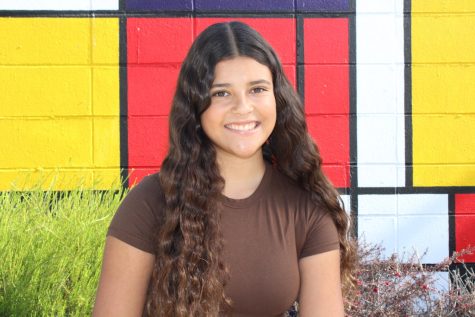 Charlotte Wright, Staff Reporter
Hi! I'm Charlotte and I am a sophomore at South Hills. Being a part of the Growl is really fun and I enjoy it. I am also a part of the cheer team and...