Get with the program
Many schools have a wide variety of options for classes students can choose to enroll in. South Hills High School is no different. However, one of the many options students may choose from is the Business Program.
The program is run mostly by Barry Hepner whose classroom is in the back of the student union which is located in the center of campus. 
"The Business Program is comprised of four different classes that teach four different skill levels," Hepner said. "A very basic Entrepreneurship that teaches everybody that comes into the class how to do interviews, how to talk to people, how to write resumes and the basic business principles."
The Entrepreneurship class is the entry-level class that everyone looking to join the program must take in order to gain the possibility of joining the higher-level classes.
"And then, we have a Sports Management class. It's more for people that like sports. But they learn how the sporting industry affects the economy," Hepner said.
Sports Management is really just for students to learn how the sports industry affects the economy and how sports teams are managed. So if you wanted to learn how the Lakers moving from Minnesota to California impacted the economy, sports management is the class for you.
"The next one is a VE (Virtual Enterprise) class which is a more advanced class. But it's not really advanced in skill level, it's advanced on the students participating. It's student-driven, student-run I call it," Hepner said.
The VE class can be seen as the advanced level of the business program as well as the program's visible class. The class is effectively a very accurate representation of what a real-world business would be like. Even going as far as competing against other VE classes to become number one nationally.
"Then I have an IB Management class, which is a college-level class. It is a business class. In fact, when you take this class, it's like taking one year of college business," Hepner stated.  "It's more book work and it's a rigorous program which means it's very structured and you take a test at the end that is scored by International Baccalaureate and you get college credit for it."
 The IB Business Management class is the ultimate class within the program. It's the highest level you can go to in the business program with the most work out of all the classes. With that being said, however, it is arguably the most rewarding class in terms of college seeing as if you complete it successfully, you obtain college credit.
Marcos Lizarraga is currently a senior at South Hills, he's been in the business program all four of his school years and has been in the Virtual Enterprise class for three of the four.
"I would like to describe the class as very free. You have to meet deadlines obviously, but the way Hepner teaches the class, and the way he talks to you, makes it feel like you're not just a student that's doing work. It feels more like you're an actual person. It makes you feel like you're a person contributing towards a common goal," Lizarraga continues.
"VE isn't an honors class, so you always feel included. It's not like for special kids or kids that are smarter than you or have better grades than you, anybody can be in VE," Lizarraga said.
Your donation will support the student journalists of South Hills High. Your contribution will allow us to purchase equipment and cover our annual website hosting costs.
About the Contributor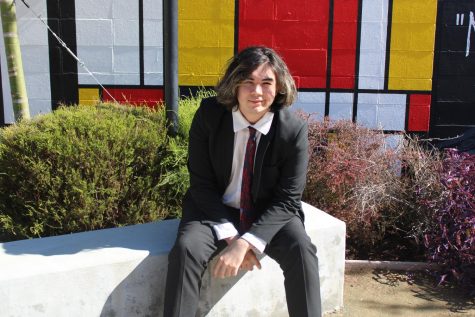 Kaeleb Hanson, Editor in Chief
Hello! My name is Kaeleb Hanson and I'm currently a Junior at South Hills High School. A couple of my interests are journalism, business, and technology....