Humans of South Hills: The teacher who's behind the door to room 102
Everybody at some point in their time has either passed by or been in Room 102 here at South Hills. But only the people who have been inside the class know the man that resides inside.
Peter Weber has been a history teacher here at our school for the past 28 years of his career but what made him decide to work here at South Hills?
"South Hills was my first choice because my wife got me the job. My wife is a Husky and graduated from here and was teaching here at the time. When I finished substitute teaching, she put in a good word for me," Weber said.
Sports are a major part of a high school student's life. They are completely ubiquitous in schools all over the nation. One of these competitive games that we offer to students here at South Hills is tennis and Mr. Weber is the coach for it.
"I'm a jack of all traits, master of none. I've been fortunate to be able to coach a lot of fun sports here at South Hills. I've coached basketball, baseball, and football, but I've coached tennis the longest and my wife taught me that one. But it's been a great blessing to me to coach as long as I have," Weber said.
As we all know, teachers don't necessarily live and breathe school all day every day. They're people just like we are with their own lives outside of teaching us and grading the overdue work that we panic rush to turn in before the semester is out. Mr. Weber is no different in that aspect.
"I've been married to my wife Kelly for 27 years, I have two sons named Peter and Cody and they have been the greatest thing in my life. I've got farming roots, I like to work in the yard and grow vegetables at home. I love that I can ride my bike to school and I love backpacking in Sierras," Weber said.
When you think of the United States, places like Texas, New York, and California are probably what you think of first but when it comes to Mr. Weber, it's the state of Iowa that comes to mind.
"My dad is from Iowa and he grew up on a farm there. There are a lot of Webers in Iowa so we go back there quite often to visit family. So we brought some of those farming roots here to California," Weber said.
Everybody has given advice to other people and to that end, Weber is no different. To end my time learning more about him, I asked him to give me some advice for incoming freshmen or seniors leaving high school.
"It's kind of cliche but enjoys the journey. A lot of times it's about those little things that become the really big things. Those small conversations, not the major events that mean the most sometimes."
Your donation will support the student journalists of South Hills High. Your contribution will allow us to purchase equipment and cover our annual website hosting costs.
About the Contributor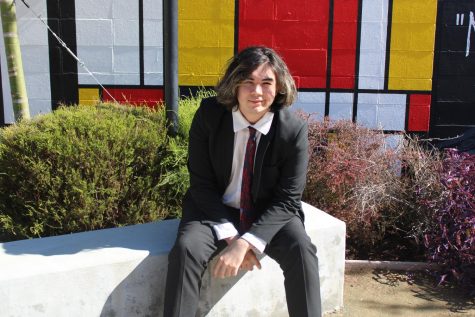 Kaeleb Hanson, Editor in Chief
Hello! My name is Kaeleb Hanson and I'm currently a Junior at South Hills High School. A couple of my interests are journalism, business, and technology....