Preparation for Havoc
Every year, South Hills ASB plans its biggest rally and class competition, Havoc in the Hills. On April 28, grade levels compete to win the last rally of the year. Each grade also has a class commissioner that is in charge of overseeing all activities and decorations. But do SHHS students know what goes on behind the scenes in preparation for an event of this scale?
"My name is Marsea Esquivel and my position is senior Havoc commissioner. For Havoc, I essentially plan the event. We start off by picking the theme and characters. Since I am the senior havoc commissioner, I am responsible for planning the senior side of the gym. Whether designing our backdrops, deciding what we're doing for our entrance or decorating, we plan to push ourselves to make Havoc the best it can be," Marsea Esquivel (12) said.
Havoc started about 10 years ago and is a tradition that students enjoy and get involved in.
"Havoc is an after-school rally that is a competition between each grade, freshmen, sophomores, juniors, and seniors. We have a variety of competitions during the week like penny wars and Instagram likes. During that actual rally, we play games and have a dance competition all for points to see who wins Havoc each year," Esquivel said.
However, before this, there is year-long planning that has to take place throughout the school year.
"We have to make a total of 500 posters and 3 backdrops that are approximately 20 feet tall and 10 feet long so it's a very busy time. I prepare for Havoc by making sure I have everything planned, so I can efficiently tell my class my vision and how to execute it. I started planning my backdrops and decorations in the summer about 9 months before Havoc, and that can tell you the amount of work that is put into this rally," Esquivel said.
Within all of this craziness, there is a fun side from staying at school every night till 10 or spending free time brainstorming with friends. ASB found a way to make a stressful event exciting to plan and execute.
"My favorite part about setting up for havoc is getting to work with my grade to put together our vision. It's really fun getting to spend this time uniting together as a class to try and win," sophomore Havoc commissioner Leia Lopez said.
Although the planning is fun, nothing is better than seeing your hard work pay off with everyone enjoying the ambiance and activities.
"I'm really excited about this year's havoc because I think it's really going to help bring the school culture back. We reimagined many things to make it adapt better to the students currently at South Hills. We want this to be the turning point for the school so that we can go back to our amazing rallies and ASB. I'm just really excited for everyone to see how we changed things and the final product of what we've been working on all year," Lopez said.
Your donation will support the student journalists of South Hills High. Your contribution will allow us to purchase equipment and cover our annual website hosting costs.
About the Contributor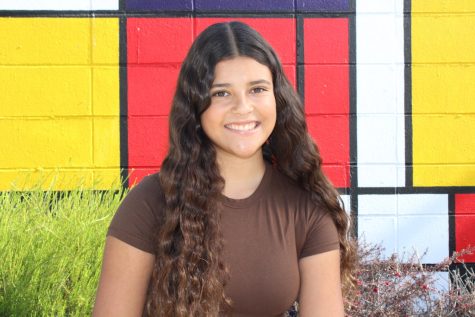 Charlotte Wright, Staff Reporter
Hi! I'm Charlotte and I am a sophomore at South Hills. Being a part of the Growl is really fun and I enjoy it. I am also a part of the cheer team and...