Humans of South Hills: unity through anatomy
You may see her around campus taking photos for the yearbook, or in Mr. Murillos' class constructing a human body. Natalia Rocha's deep passion and influence for art were displayed in her IB art exhibition in the student union on March 10, 2023. Natalia Rocha used human anatomy to depict the beauty of the raw, untouched body as her theme in making her portfolio.
 Instead of the ideal view of anatomy that uses medical science, Rocha takes a different approach to the subject. Through an artistic lens, she can provide a clear view of everyday anatomy in her work, compared to anatomy we don't see in people. People might see anatomy as flesh, skin, bones, and muscle but Rocha portrays it as something beautiful that people shouldn't ignore. "I combine it with surface-level anatomy that we see every day to illustrate that both the anatomy underneath the skin and from an everyday perspective is the same and both are beautiful," Rocha said.
 Another way Rocha illustrates the beauty of anatomy is by presenting it uniquely. I aim to show the beauty behind anatomy in that I present it in a new, maybe odd setting that people aren't used to seeing," Rocha said. 
Two pieces of artwork she created use reds and blues to represent the mystery underneath someone's skin. When I visited the exhibit one of my favorite pieces of artwork I observed was the Portrait of an Apache Woman. The ancestry of Natalia's grandmother was used to inspire this piece, which creates an amazing storyline behind it. In the picture, there is a section of facial tissue revealed that represents the strength and beauty the woman holds inside and out. I loved that she included information about her ancestors for reference.
 Another one of my favorite pieces I observed from the exhibition was called Portrait of Duality. The portrait displays two faces in the ongoing color scheme of red and blue, which reveal the different personalities of Rocha. Instead of describing split personalities as a negative concept, Rocha explains that they come together to represent her harmoniously as a whole. The split personalities are different aspects of her entire being that shape who she is as a person underneath. 
Aside from her insight Rocha used her favorite artist's artworks as reference and inspiration for her work. "I take inspiration from Fernando Vicente, he makes paintings that show a portrait of a person, that show a portion of their skin cut off to show the anatomy underneath, that kickstarted my inspiration for my theme," Rocha said.
Another artist Rocha uses inspiration from is Izumi Miyazaki. Miyazaki is a photographer who practices photoshopping artwork. In many of her pieces, she shows the unexpected beauty of gore. 
Throughout the entire process, Rocha describes her family background in art, the inspiration behind it, and an important message she wants to send to people who support her."I want people to self-reflect on their definition of beauty and their relationships with the human body as a whole, not only their bodies but everybody because people either view the body in a medical sense, societal standards, or a very sexualized sense. I think the human body raw and untouched is beautiful in itself," Rocha said.
Your donation will support the student journalists of South Hills High. Your contribution will allow us to purchase equipment and cover our annual website hosting costs.
About the Contributor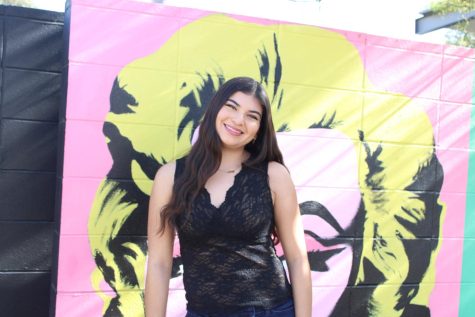 Ashley Sendejas, Editorial Staff
Hey, I'm Ashley! You might see me on the tennis courts, backstage, or doing work in the journalism room. I love setting goals for myself that will benefit...