Heroes vs. villians
At South Hills, Sunder Games is a major tradition the school takes part in. This is a during-school rally that students participate in by giving points to the winning team after a series of challenges. Teams are chosen by grade levels and some of these games include balloons, tic tac toe, and guessing games.
"My favorite game at Sunder is tic tac toe because I got to be part of it. It wasn't like regular tic tac toe because you had to run to place your letter. It was really fast-paced and intense which was cool," Landon Hansen (10) said.
Aside from tic-tac-toe, there were also games involving teachers that boosted engagement from the crowd.
"My favorite game at Sunder was the teacher game, where the teachers represented our grades.  I feel like the student body was most excited about that game, and had the most involvement with cheering. The whipped cream one was fun because the teachers had to try and find a gummy bear within a plate of whipped cream and it was really funny," Leia Lopez (10) said.
There was also a performance from the SHHS pomline team which helped captivate the audience. Pomline member Amaris Cardenas (10) shared her thoughts about the show.
"My favorite part about performing was showing off what I and my team do during practice. After football season, we kinda disappear since we aren't cheering for every sports game. Sunder, however, helped show off to the whole school how talented our team is and what we're capable of," Cardenas said.
This year the theme for the rally was heroes vs. villains with the freshman/seniors being villains and the sophomores/juniors being the heroes. The setup for this was all done by students in ASB that worked really hard to get it done on time.
"My favorite part about setting up for sunder was the night before when all of ASB stayed late, and we set up all the backdrops and we ran through the whole rally and practiced our lines and the games," Lopez (10) said.
ASB member Landon Hansen (10) also talked about what it was like to set up for the rally.
"My favorite part about setting up was that I got to be with my friends while also helping do something good for our school," Hansen said.
Sunder Games ended with heroes winning the villians, which boosted school spirit in addition to creating a fun atmosphere at the start of Havoc season.
Your donation will support the student journalists of South Hills High. Your contribution will allow us to purchase equipment and cover our annual website hosting costs.
About the Contributor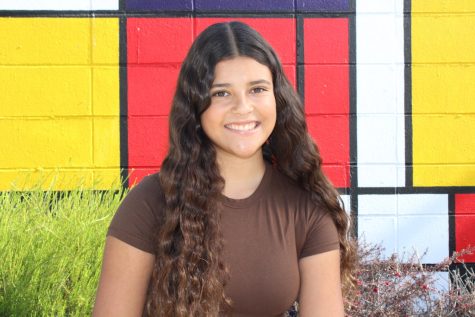 Charlotte Wright, Staff Reporter
Hi! I'm Charlotte and I am a sophomore at South Hills. Being a part of the Growl is really fun and I enjoy it. I am also a part of the cheer team and...