The competition perspectives of H.A.S.T.E and ReLace
Virtual Enterprise VE teams nationwide compete in various competitions throughout the school year ultimately ending in the third round taking place in New York. Arguably, the most important competition of a firm's lifespan is the Business Plan.
The Business Plan itself is essentially a guide a company uses to outline how they will run their company. The competition's first round is held once a year during the month of November and during that first round, various Virtual Enterprise firms from around the nation compete against one another to move on to the second round. Two such teams are H.A.S.T.E and ReLace.
"Our team went to Redlands and we competed in round one of the national business plan competition," Saniya Tillis, a senior at South Hills said. "We went and presented in front of judges the business plan for our company ReLace which is a recycled shoe company."
Tillis wasn't the only person to go to Redlands with their company, however. Fellow senior and CEO of H.A.S.T.E, Marcos Lizarraga also had the ability to go and compete in Redlands to potentially move on to the second round of the Business plan competition.
"The weeks leading up to the Business plan were definitely a bit shaky just because I had been gone for a while as well as my Co-CEO, he had also been gone for a couple of weeks. The planning there was kind of a bit rocky and the communication wasn't up to par and what I wanted. You could definitely tell during some aspects of the Business plan presentation that we needed to develop further. I think for it being our first time as a group, and it being my first time as a CEO, I think we did well," Lizarraga said.
In the format of the competition, only one VE firm is allowed to present at a time. This was no different for H.A.S.T.E and ReLace. After each team had presented, both CEOs had a chance to sit down and reflect on how they believed they did.
"I think I did fine. I know obviously, mistakes happen and I may have messed up in my script, but at the end of the day, I'm proud of myself and I think I did good. I had a lot of pressure going in and being my first year as CEO and I definitely think that this team I put together is doing well," Tillis said. 
"We practiced but we didn't practice enough. I would say when we did practice, we didn't factor in the time limit and that is something that definitely hurt us while presenting," Lizarraga stated. "So I think for next time if we practice with the time limit in mind, that will save us a lot of points and kinda put us in a better position to hopefully advance." 
During their trip to Redlands, the two CEOs were given a lot of feedback from their judges. After they presented, they had time to look back and think about it.
"In terms of our company, we got a lot of really good industry information from Mr. Sugi. He gave us information like insight into the corporation. We were originally going to do a benefit corporation certification, but he said to look into non-profits and he just gave us a lot of really good information to work off of," Tillis said.
"I know that we were kind of criticized on our finances. All our finances were right but the way we explained them was something the judges found confusing and it was something we didn't find confusing, but that's our internal bias," Lizarraga said.
Your donation will support the student journalists of South Hills High. Your contribution will allow us to purchase equipment and cover our annual website hosting costs.
About the Contributor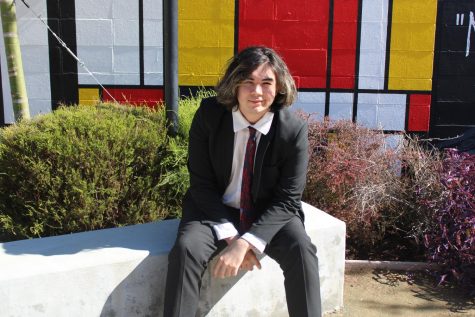 Kaeleb Hanson, Editor in Chief
Hello! My name is Kaeleb Hanson and I'm currently a Junior at South Hills High School. A couple of my interests are journalism, business, and technology....